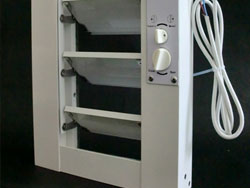 Manual & Electric Integrated Louvre controlled by both manual rotary knob and electric window actuator.it is brand new louvre used widely in ventilation,sunshade,security etc. You can open and close the louvre by manual instead of electric window opener.

Product Description
Manual & Electric Integrated Louvre
Overview
Manual & Electric Integrated Louvre controlled by both manual rotary knob and electric window actuator.it is brand new louvre used widely in ventilation,sunshade,security etc.
You can open and close the louvre by manual instead of electric window actuator when it is power shortage in emergency.
Features
Blades can be installed vertical、crosswise position.
The length and width of blades customized by customer.
0-105° movement design, Can meet different request of building lighting and sunshade.