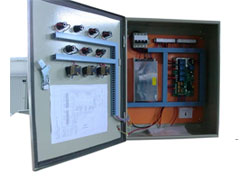 Used for smoke and natural ventilation system ,smoke and heat exhaust ventilation system SHEVS ,designed and produced according to WP standard.

Product Description
Control Panel
Technical Date
Working Voltage - AC220V±10% 50HZ
Backup Battery - DC24V (2 batteries DC12V in series, Capacity:17AH)
Rated power consumption - 864W
Controlled output - Double group interlocking output DC27V
Working Temperature R - -10℃-+65℃
Relative Humidity - ≦95%(40±2℃)
Box Size - 600 mm×500 mm×200 m(H×W×D)
Weight - 30kg
The battery's continuous operating time under full load status - 15 Minutes
Output Control way
Manual control output - Open/close window by manual button
Automatic control output - Manual button/Fire linkage control/Emergency button trigger/ multiple smart control option
The range of control panel we supplied
Control output - 16A / 32A / 48A / 64A
Battery( insertable ) - 12Ah / 17Ah / 24Ah / 38Ah
Basic Function
Our control panel with manual and automatic control way, Press the button of open/close/stop to control the window via the manual button on the panel by manual Under automatic control status,it can receive the fire signal from fire center to open all window in the firing route Meanwhile it will give the alarm and send passive signal to fire center.
There is emergency button connected to the panel and our panel can receive the triggered signal to open all windows in this firing route and sounds alarm,meanwhile send passive signal to fire center.
There is manual natural ventilation button for option,it can control all windows by manual ( open/stop/close) for natural ventilation without any fire/emergency signal received from the control panel.
There is wind&rain sensor for option, it can close all windows after receive the signal from W/R sensor when there is rainfall and storm coming.