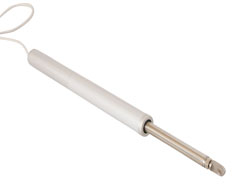 Electric linear actuator / Automatic linear actuator / electric window opener / electric window actuator / automatic roofed ventilator / smoke ventilation / automatic skylights

Product Description
WP-L600 ELECTRIC LINEAR ACTUATOR (Special for Smoke ventilator)
The linear actuator is applicable especially for weighty and/or wide types of windows. Thanks to its construction, it ensures pressure and tensile stability in any fitting position and can be used even under the most difficult conditions. The use of high quality materials and a proven precision linear rod provides for a long lifetime and a reliable function.
Overview
For wide Facade windows, roof flaps and domelights.
Even load distribution on window wing.
Tandem version for weighty loads.
High protective system IP 65 with highest waterproof level.
Low voltage DC24V motorS are energy efficient.
Electronic limit stop and overload cutoff.
Push/Pull Force up to 600 N.
Opening distance ranges from 50 mm to 800 mm approx., according to version.
Fire resistance (30 minutes/200°C) and 10,000 double strokes with rated load.
Cable entry and drive unit interchangeable.
Can be painted in all RAL colours.
Individual stroke lengths and change of structural dimensions possible.
Various options available, e.g. position and status indications, see drive options.
Further accessories, see drive accessories, smoke vent and ventilation controls.
Actuators are produced according to WP and CE standard.