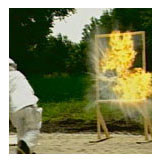 Unique Single Solution Protection from Multiple Threats
Accidental Shattering
Small Firearms
Firebombs & Riots
Terrorism & Explosions
Storms
Vandalism
Burglary
UV & Solar Heat
The only system that actually strengthens the glass itself
Easy to Install, done quickly on site
Breaking through takes time, slowing down the criminal
Upto 400% stronger than normal glass
Prevents flying glass during an explosion or accidental shattering
Fire resistant; melting point is 256 deg C
Meets US General Services administration (GSA) Level 3 condition
Absorbs U/V radiation by almost 100%
Keeps out up to 80% of the heat from sunlight
Provide greater comfort and reduces energy costs
Stops fading of Fabrics, furniture, carpets, window displays
Confirms to US standard ANSI-Z97. 1-84, ASTM D-1044, CPSC Part I Category II, Class "A" fire rating
Improves soundproofing of the glass
The process is environment friendly
Protects your vehicles, home and / or business 24 hours a day,7 days a week
Picture perfect view - optical grade polyester is invisible to the eye. This process not only strengthens the glass but also is optically 100% pure. When used as tints and shades, it improves the appearance of the glass and adds protection from UV light and solar heat.
Cleans as easily as glass.
Energy savings of up to 12,000 BTU's/hr per 100 sq. ft. of sunlit windows during daylight hours.